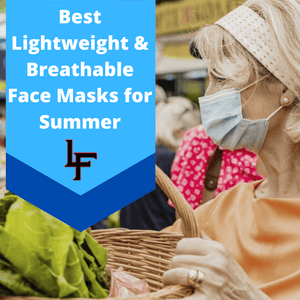 BEST LIGHTWEIGHT & BREATHABLE FACE MASKS FOR HOT SUMMER DAYS
It's not news anymore that wearing a mask is essential to avoid the spread of Coronavirus. Due to this, buying the best face masks for summer may be ideal when you think about comfortability.
One major feature of summer is heat & humidity, which makes wearing a face mask unbearable. Now that it becomes imperative to protect yourself and others from escalating the virus, a breathable face mask is crucial for comfort.
You're probably dreaming about the perfect lightweight face mask that takes into consideration breathability. There are varieties of face masks for hot summer days that allow you to feel comfortable all day.
Public health practitioners were able to identify breathable face masks after reviewing several mask designs in circulation. Part of the consideration process before concluding a face mask is breathable, are the fabrics used in the production process. Face masks made from cotton and bamboo tend to offer breathing space while preventing coronavirus infection.
It would be best if you had a cooling face mask when you are in public places, where it isn't easy to maintain social distance. However, irrespective of your choice of face masks, you must be mindful of its medical features.
Just below, you will find out how to determine the best lightweight & breathable face masks for hot summer days. If you care about convenience when it comes to face mask usage, you are about to get valuable information that will be beneficial to you this summer.
FEATURES OF A GOOD FACE MASK
Based on the Centers for Disease Control and Prevention recommendation, a face mask qualifies as a good one if it is of surgical-grade, made from cotton, and it is lightweight.
The primary function of a face mask during this pandemic is to prevent people from churning out contagious drool to someone nearby. So, if you must get a face mask, you should consider the mask's construction, which should cover the mouth and nose entirely. Apart from nose and mouth covering, a face mask must be befitting, rather than pulling the ears or not getting attached to the head firmly.
Another thing to put into consideration is your nature.
Do you sweat often?

How do you feel when you cover your nose with any clothing material?
Understanding your nature is vital to get a suitable face mask material. Regardless of your personality, face masks made from cotton offers comfortability and allow you to breathe easily. 
However, if you're sweating behind your mask, cotton face masks absorb & retain moisture. Thus, you should buy a face mask with moisture wicking fabric such as neoprene, structured spandex, etc. 
One thing you must understand is that lightweight and breathable materials do not necessarily mean that a face mask will be as protective as others. That is why you should look out for a breathable face mask with multiple layers of fabric for filtering air. The filtering layer of the face mask should allow outflow of warm air and the inflow of fresh air. For higher protective measures, some nose masks come with a metal nose piece that gives room for free air movement.
SUITABLE MATERIALS FOR BREATHABLE FACE MASKS
Lightweight and Breathable Cotton:
Although most of the face masks in circulation are cotton products; they differ in terms of lightweight and breathable characteristics. Take, for example, poplin is a typical variation in cotton materials that makes cool and comfortable face masks for the summer heat. Also, rest assured of adherence to the Center for Disease Control and Prevention recommendation of cotton.
Sweat-Wicking Materials:
A drenched face mask can make you feel uncomfortable & gross. However, some polyester fabrics are suitable for sweat-wicking, which ensures your skin remains dry and cool regardless of sweating. These materials absorb sweat as it is being emitted from your body, transferring it to the outer side of the face mask, where it dries off with airflow. An adorable feature of this material is its quick absorption and ability to spread sweat rather than accumulating it.
Performance Fabrics:
Exercising clothing materials differ from cotton because of their smoothness and ability to wick sweat away. Face masks made with performance fabrics are exercise-oriented, especially when you engage in workout activities. Like cotton, performance fabrics are lightweight; you won't compromise your comfort when you make use of it.
Particle Resistant Fabrics:
Some face masks permit contaminated substances to pass in from the outer fabric. Some face masks with particle-resistant capacity help to prevent the entrance of contagious droplets from the exterior part. However, you must know that face coverings in this category may be lightweight and offer maximum protection but are less breathable. 
BEST FACE MASKS FOR HOT SUMMER

VTER Cotton Breathing Mask
In terms of easy breathing, the VTER cotton breathing mask features every component that makes breathing possible. Many users have testified to the softness of the fabric of this face mask. The production includes a combination of 65% polyester and 35% cotton. These materials prevent pollutants as well as absorbs excessive sweat. Reviewers confirmed that it does not bring about a hypersensitive reaction to the ear.
StringKing 3-Layer Face mask
This face mask design is not reusable, but it offers 3-layers of protection and breathability. The spun-bound polypropylene helps to filter the air while preventing the accumulation of heat. If you are shopping for a lightweight face mask, Stringking disposable fabric offers astonishing comfort. The creation of these designs includes elastic ear bands and wire nose piece. A box of the Stringking 3-layer face mask contains 50 pieces. They are available in two colors; white and blue.
Reebok Face Covers
Reebok is a familiar brand providing quality and comfortable sporting materials. Their face covers are one of the suitable face mask designs for outdoor events, such as biking. Its grip is perfect for the ear, given the fabric ear loops that come with it. You can't be skeptical about its breathability features because it is light enough to offer your comfort. The Reebok face cover is reusable and made from 93% polyester fabric. In addition, it is the appropriate face masks for hot summer that keeps discomfort in check whenever you use it.
Esty Face Masks
This brand focuses on lightweight alternatives that ascertain the comfortability of users. Esty face masks comes with a poplin cotton material, which is super lightweight and durable. This cost-effective face mask is a complete cotton-blend material produced in different colors. The ear loops relatively elastic, which eliminates the smallest discomfort you could imagine.
EnerPlex Premium Face Mask
EnerPlex's premium face masks offer maximum protection against spreadable substances, including breathability. They are 3-layer designs that feature one layer of polyester and 2-layers of cotton exterior. It prevents virus droplets from spreading as well as getting rid of heat. Reviewers recommended the EnerPlex's premium face mask because of its stretchy ear loops. Also, it is reusable after washing.
CONCLUSION
We've walked you through the Best lightweight and breathable masks for hot summer days. We hope that you can now go out without the inconveniences that come with hot-breathe from heavy airtight masks. Also, you are sure to be protected against dust, dirt, and airborne infections.
---