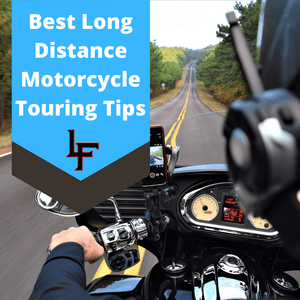 Top Tips for Long Distance Motorcycle Rides
Is there anything better than taking a long journey on your motorcycle? If you enjoy the freedom of the open road and the exhilaration of riding your motorcycle, a cross country trip or motorcycle tour might be in your future.
As exciting as it is to hit the road, there are some things to keep in mind. From preparing for your trip to staying safe during long-distance travel, these are the best practices for long-distance motorcycle rides. 
Adjust your suspension
Adding luggage or another person to your bike will greatly increase the weight you are carrying. This makes it important to check your suspension and ensure it does not sag. Your fully loaded bike should use about one-third of your available suspension. 
Grab the Right Motorcycle Gear
When it comes to long motorcycle tours having the right motorcycle protective gear is essential. 
For many long-distance riders, this means having a full set of leather chaps in case of bad weather.
When it comes to motorcycle touring tips, more & more riders are grabbing leather face masks to protect them from wind, rain, sleet & hail. The leather face mask goes perfect with any non-full face helmets. 
Wearing full-face helmets ranks can help for added protection. This type of helmet will keep you warm and dry, no matter the weather. It also blocks out noise, which can make you feel more tired over time. 
Bring plenty of water
Keep water close at hand, so you can always grab a sip when you pull over. You may not notice when dehydration sinks even, especially if it is a cool day. But the hot sun & the constant wind absolutely start to dry out your skin causing dehydration.
When water is easy to access, you are more likely to drink it on a regular basis so keep some close by. 
Plan your stops
If you are looking for cross country motorcycle riding tips, you should definitely consider planning out your stops before you leave.
Map your route, make hotel reservations if possible, and even look for restaurants ahead of time.
Stretch Your Legs
When you reach your pit stops or rest stops make sure to always stretch your legs. When it comes to long-distance motorcycle tips, stretching is by far one of the most important. 
You can't ride your bike all day if you're to soar to sit down. Getting some movement in can help you go longer distances without getting burned out. 
Having designated stops along your trip can keep you from getting too tired between stops and give you something to look forward to after a long day on the road. 
Think about your bike
It is important, to be honest with yourself before going long distances on your motorcycle. Is your bike capable to handle a thousand miles or more in a short span of time? You do not want to get stuck with broken-down bike hundreds of miles from home. 
Enjoy the ride
While it can be tempting to get to your destination as fast as possible, take time to appreciate your surroundings. Driving long distances on your motorcycle allows you to experience the world in a unique way. Whether you pull over to admire the scenery or work in a detour or two, there are many ways you can savor every moment of your trip. 
There are a ton of backroads that are perfect for long-distance motorcycle rides. 
Check your speed
Sprinting across the country in your motorcycle is probably not wise. You may be able to maintain higher speeds for a while, but they will ultimately ruin your gas mileage and the range for your bike.
It's important to remember that your bike isn't the only thing you need to watch out for on a motorcycle tour. Speed traps are likely to be posted in different areas all along the way.
One of the best motorcycle touring tips is to check your speed because you are in a new and unfamiliar place. 
Avoid rush hour 
Sitting in traffic is an easy way to kill your buzz when it comes to long-distance motorcycle trips. The excitement can quickly wear off when you are left frustrating in gridlock.
Plan for rush hour traffic as best as possible. You can choose to leave later in the morning and stop for dinner when everyone is getting off of work.
It makes a world of difference to be sitting enjoying a meal as opposed to stopped bumper to bumper in rush hour traffic. 
Schedule Maintenance Stops
Depending on how far you plan to go, you may need to schedule a tire change or oil changes along the way.
You should take care of as much maintenance as possible before you leave, but somethings things cannot be avoided.
Look for places to get an oil change or switch out your tires beforehand to keep from paying higher prices or waiting for service. 
It's always best for long motorcycle trips to do a full inspection before you take off. 
Make Routine Checks Daily
It is important to check your bike every day during a cross country motorcycle trip. You're going to be covering hundreds of miles every day. That's a lot of wear & tear on your bike. 
Make sure to always do a routine safety inspection every morning and night to avoid any unforeseeable issues. You should be checking your clutch, chain lubing, brakes, suspension, etc. 
A 5-minute check can save you from a devastating accident. 
Prepare for the weather
You never know what the day might bring, despite what the weatherman says. Bring clothing and gear for different types of weather, including rain or sleet, wind, or heat. Being prepared can help you enjoy your trip more, instead of being miserable once you get soaked. 
Be Realistic 
How many miles can you actually travel in a day?
One of the top motorcycle touring tips is being realistic with your daily mileage. Consider the types of roads you will be traveling on, where you plan to stop, and the weather when deciding your daily mileage goal. 
The last thing you want to be is tired behind bars. 
Bring emergency supplies
Keep a first-aid kit on hand in case of emergencies. You should also have a list of emergency contacts, your medications, an emergency blanket, extra food, a flashlight, and a backup phone charger. Your list of emergency supplies will be unique to your needs, but it is always best to be prepared! 
Have fun
You may have to remind yourself from time to time why you started this trip in the first place.
Riding long distances on your motorcycle can be exhausting, and not every day will be perfect. When you start feeling down, remember your reasons for hitting the road in the first place.
You can even schedule an impromptu stop to take in your beautiful surroundings or spend time doing something you love.
---