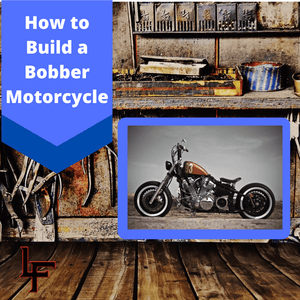 How to Build Your Bike into a Bobber
If you love the simplicity of a cool motorcycle, the bobber is the right style for you. Building a bobber motorcycle is a great way to express your unique taste and create a bike that contains your favorite components.
Whether you prefer the look of a bobber or want to repair a damaged bike, properly assembling your bobber is key.
Keep reading for more information on how to build your bike into a bobber that is safe and fun to ride.
What is a bobber motorcycle?
Bobbers are motorcycles that have been stripped down to only the necessary components, or whichever components you consider necessary.
There are no rules for how to design a bobber motorcycle, and you can build a bobber that matches your taste and style.
Transforming a bike into a bobber involves removing a lot of parts and making modifications to your motorcycle.
This can be dangerous if it is not done correctly because you could accidentally remove an important safety component. For the most part, it is best to stick to removing unnecessary metal brackets, passenger grab rail, or similar items.
Typical Bobber Features
There is no "right" way to build a bobber motorcycle, but there are a few common features that make up the bobber style. You can determine which of these aspects to include in your build, and which ones you don't care about.
Shortened front and rear fenders

Replaced or modified seats

Removed mufflers

Replaced handlebars

Lights that have been custom fitted

Changed color schemes
Which Motorcycle Makes a Good Donor?
In theory, you can complete the bobbing process with any motorcycle. However, the best bobber builds start with a great base.
The make and model you choose for your bobber build should be based on your personal preference. You can choose to modify a bike that has been damaged or one that cannot be easily repaired due to unavailable parts.
Also, you can scour classifieds or online ads to find inexpensive motorcycles to transform.
 If you are after the typical bobber style, you can focus on a couple of aspects of your bike. The gas tank and swoopy lines may catch your eye on a bike that will make a great donor for a bobber. These elements play into the typical bobber design. You may also find that it is easier to remove components from retro or vintage bikes.
How to turn your motorcycle into a bobber?
When you're ready to take on a bobber motorcycle project, you can purchase a bobber motorcycle kit or strike out on your own.
If you want to know how to turn your motorcycle into a bobber, you can start by removing components that are not typically found on bobbers.
Initial changes tend to include shortened fenders in the front and rear; switching out the handlebars for smaller or compact options.
Altering the fender is one of the most common ways to create a bobber. You can go full Leather Face style & remove your fender entirely offering a more lightweight bike. Thankfully the leather face mask will keep your face protected. 
However, be sure to check your local laws because a fender may be required for riding on the street. If you want to leave the fender on your bike, you can shorten them to fit your style.
Another common change for bobbers is the seat. You can purchase bobber-style seats online that resemble the style of bikes in the early 1900s. It may be difficult to modify a modern seat because they are made of strong, pressed steel bases.
The exhaust can also be modified to transform your bike into a bobber. Bobbers are typically louder, so you can increase the sound by removing the muffler.
This practice may not be legal in all states, so be sure you check your laws before modifying the exhaust system to remain street legal.
Finally, bobber motorcycles often feature custom lights. You can purchase light kits online or design a custom light kit to match your preferred style.
What is needed for a bobber motorcycle kit?
If you're starting a bobber motorcycle project, there are some tools you will need. A seat kit can help you achieve the solo seat look that is common to bobbers.
If you have a two-seat bike, you will need a motorcycle seat kit to install your new seat. You can also consider adding a heated seat to make riding more comfortable or including a saddlebag for convenience.
A front fork tool kit can ensure you properly install the front fork on your bobber to keep you safe. The front fork can keep too much weight from pushing on the front wheel. This will also help the wheel on your bobber better handle braking or changing directions. 
If you are going for the signature, chopped fender style for your bobber, you will have to shorten your fender. This process involves cutting your rear and front fenders, which can be a tricky process.
There are many tools that can help you shorten your fender, including a hacksaw. An electric jigsaw may be an easier option that requires fewer cuts to get your desired look. Whichever tool you choose, you will also need the supplies to repaint your fender or re-chrome it.
Don't forget to use a face mask and ear protection while shortening your fender to stay safe.
Conclusion
Turning your motorcycle into a bobber is a fun and exciting project. If you love the bobber style, you can transform your bike or purchase a donor bike to create your own unique and custom motorcycle. The best thing about bobber bikes is that you can do anything you want, so design a bike that fits your personal taste.
---