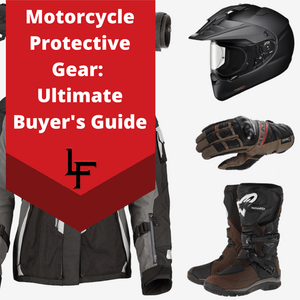 The Ultimate Guide to Motorcycle Protective Gear
When it comes to riding a motorcycle, being a professional doesn't mean the unexpected cannot happen. At a time when this occurs, it might be severe if you are without any motorcycle protective gear.
To avoid severe injuries, you must always ride with motorcycle protective gear that keeps you safe. You should adhere to the acronym "ATGATT (All The Gear, All The Time)" whenever you plan to go on a trip. 
Buying motorcycle gear for protection doesn't come as a waste of money because your safety comes above every adventure. The distance to cover might be short; however, you should never underrate the importance of motorcycle protective gear.
Your probably thinking to yourself, how do I choose which the proper motorcycle gear for protection?
Well, that's why we have put this article together. Read on!
MOTORCYCLE PROTECTIVE GEAR
Knowing the best place to buy motorcycle gear that is suitable for your motorcycling needs is important. Apart from its protective features, a rider should be comfortable wearing their gear. 
Distractions can be costly when riding, given the nature of motorcycle – two wheels. Therefore, irrespective of individual characteristics, there are custom motorcycle gear options that check all safety boxes. 
Riding a motorcycle is one of the best feelings – the thrill, the freedom, and the wind on your face. In between this excitement is something no rider wants to encounter while riding – accidents.
There are many stores online and offline that have motorcycle gear for sale. But there are some important factors you need to consider before you make your purchase.
Riding without protection shouldn't be an option. We will be highlighting motorcycle gears that offer both protection and comfort for your safety.
1. Motorcycle Helmet & Face Shields
Every rider needs to consider wearing a motorcycle helmet, as it's an integral part of safe riding activities. Having second thoughts about wearing a helmet is as good as exposing your life to threats on the roads. 
The helmet comes first among other motorcycles protective face gear because head injuries can be fatal without adequate protection. The acronyms, ATGATT should be in your memory always.
However, one should not overlook the protection & comfort a motorcycle face mask can offer. For example, Leather Face Masks have a Patented Multi-Layer Design to offer advanced breathability & protection. 
There are different types of motorcycle protective helmets. Selecting a particular type depends on your preferences. However, you should be mindful of its safety features and comfortability.
TYPES OF MOTORCYCLE HELMETS
Full-Face Helmet –

This motorcycle protective gear covers every part of your head. One unique component of the full-face helmet is the chin bar attachment. Their function comes in to play mostly during a crash, as it takes the bruise in place of your skin. 
Its comfortability lies in the room it gives for ventilation. You're assured of coolness and comfort despite its complete guide for the head.
Three Quarter Helmet –

It possesses almost the same features as the full-face helmet, except for the absence of a chin bar. This is not ideal for high-speed trails or commutes within the city. However, it is suitable for leisure and casual riding on the beachside road.
Half Helmet –

Just as the name implies, it doesn't cover every part of your head. Only the skull and your ears are covered, leaving the lower part of your face unprotected. This is an ideal helmet for bicycle owners. You can learn more about motorcycles protective helmets.
Adjustable Helmets (Modular) –

This helmet offers you the opportunity to choose between full face and open face helmets when riding. It has a unique hinge feature that enables easy flipping of the chin bar and the attached visor. What differentiates these helmets from the full-face helmets is the weight as a result of the hinge.

2. JACKET
Jackets are one of motorcycle protective gear that offers comfort, given its ability to resist water. It keeps you dry even in unfavorable weather condition. The textile of the jacket is capable of resisting scratch and cut. 
Although motorcycle jackets are less expensive and sturdy, you cannot adjust them to suit different weather conditions. Attached to these jackets are adjustable air vents. This double protection jackets prevent flapping around in the high-speed wind, given the custom design that stays firm to the body.
Jackets are a great component of motorcycle protective gear because they are not designed for fashion, but to offer abrasion resistance. Your top priority when getting a jacket should be perfect fit.
Motorcycle jackets come in different forms, which are:
Styles of Motorcycle Jackets
Textile Jackets

– The textile jackets offers more comfortability, especially during summer. Lab-created materials, such as Kevlar are the common types of textile jackets today.
Although the textile jackets offer good protection, its reusability is very low.
Leather Jackets

– These are traditional motorcycle jackets protecting you extensively. A custom motorcycle jacket will ensure you are safe if any accident happens by chance.
Unlike the textile jacket, it is not suitable for wearing in the summer. However, there are perforated leather jackets that can take you through summer.
Mesh Jackets

– This type comes with many air vents. Suitable for riders in the Middle East and South Asia with high-temperature rate. These jackets are more expensive than the other types mentioned above.
3. Pants
You cannot depend on regular jeans for protection; it hardly has any protective effect when an accident happens. Regular jeans are made from cotton that cannot resist abrasion. Suitable pants for motorcycle protective gear are those made from textile or leather.
Motorcycle pants have similar types as jackets, and they perform the same functions. Most pants come with CE-rated armor around the hips and knees.
If it doesn't fit you tightly, you should consider the custom protective gear that will be perfect for your motorcycling needs. Also, endeavor to confirm that the armor sit firm in its position.
4. Riding Boots
Your legs perform a lot of jobs when riding your motorcycle. It offers support for the weight of the motorcycle. It contributes to the control when you want to ignite the engine and when you want to stop on the motion. 
This calls for a pair of durable boots that can withstand every function the leg performs. If you are considering a boot, you should look out for an oil-resistant boot with non-slip soles that offers support to your ankle.
You can run a test to check out for what the outcome would be should an accident occur - Pick the boot, twist the toe and heel, then confirm if it would affect your toe. If it looks like it is vulnerable, don't buy it.
5. Motorcycle Gloves
Your hands are equally important as other parts of your body. According to research, in the event of a crash, the hands are used to strike a balance to avoid severe injury.  Hence, the hands, which is a protector to hand part of your body, needs protection too.
There are abrasion-resistant gloves for hands protection. These gloves come with armor attached to the base of the palm. The reason being that they are the first in contact with the road if the unexpected occurs.
When buying gloves, ensure that you don't feel any discomfort while operating the controls during a ride.
6. Rain Gear
If there is one thing passionate motorcycle riders can take out of their motorcycle protective gear, it is the rain suit. Dry suit while riding aids concentration. If you are wet while on the motion, distraction may set in, which is not good for a rider.
Motorcycle rain suits are available in one or two-piece style made with either leather or textile in different colors. Also, you can get a rain suit in polyvinyl chloride and nylon material
Some rain suit design, such as the head-to-ankle style are zip-enabled for easy wearing and undressing. Some are elastic near the waist and stirrups around the ankle to grip to the rider's shoe tightly.
They are suitable for almost any type of outing activities. Even though they are not designed for fashion, they look pretty cool when you wear them.
Conclusion
We have discussed some important motorcycle protective gears in this article, so when next you want to buy one, make sure you buy the gears you are comfortable in. Safety should be your priority and never forget the acronym "ATGATT" whenever you want to go for a ride. There are complete motorcycle gear for sale in various stores. However, you must understand the value of motorcycle protective gear before you buy one.
Enjoy this Article? You May Also Like:
---