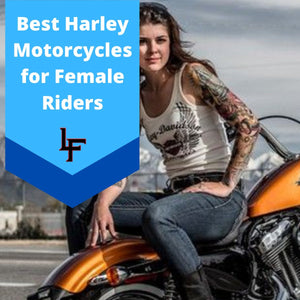 Ultimate Guide to Harleys for Female Riders
Gone are the days when riding Harleys was common among men only. But as it stands now, Harleys for female riders is the latest trend in town. If you are a woman who feels like being part of this movement, you might need to stay tuned till the end.
Your convenience matters a lot. You are not just joining female riders; you need something suitable and stylish to cruise the road. Since women are turning their attention to Harley-Davison, we will be highlighting the best Harleys for female riders.
Key Takeaway
For riding convenience, it is essential to be conversant with the component of your dream Harley motorcycles before purchasing one. A few of the things that a woman needs to consider include low seat height, lightweight, and low center of gravity of the Harley bike. Understanding these factors, in addition to your riding style, helps in making the best decision.
What You Should Know Before Buying a Motorcycle
Women are different from men in terms of body structure. Unlike men, women inseam seem to be shorter, which needs to be part of the decision to choose a model. You might need to consider your inner seam to select a suitable seat height.
Nobody wants to regret an action that cannot be rescinded. That is why you should take this seriously. However, some models allow riders to adjust the seat height; understanding this before buying will save a lot of stress.
Adjustment to the seat height may affect the motorcycle handling, which might be frustrating to you. However, Harley's motorcycles for female riders are designed to offer you comfort while you ride.
Apart from the seat's height, you need to take note of the width of the motorcycle seat. Wider seats tend to deny riders the opportunity to close their legs. Hence, it becomes difficult to keep your feet level on the ground.
A narrow seat increases your confidence and gives you complete control over your motorcycle. Harley Davison motorcycles for women are not gender-specific, but they are different model suitable for females.
Best Harley Motorcycles for Female Riders
What makes a Harley suitable for a woman? The answer is not far-fetched. Women are not as strong as men. For this reason, Harley motorcycles for female riders should not be heavyweight. Also, the center of gravity must be very low to enable a woman to operate it efficiently.
Harley-Davidson motorcycles come in different models and designs. It is impossible not to find the ones that suit your riding style. As a prospective buyer, you will get the opportunity to sit on the motorcycle to feel the style.
We made our selections of the best Harley motorcycles for female riders based on online surveys. Below is what we have got for you;
1. Harley-Davidson Softail Deluxe
The appearance of this motorcycle might feel like you are making the wrong decision. But, no, it offers comfort more than you can imagine. The Softail design brings a fresh memory of the past, but it's a modern motorcycle with an air-cooled V-twin engine.
Softail deluxe is available in varieties of colors with its low seat height, making it one of the best for women. It takes true Harley form with a six-speed manual transition and 1745cc engine churning out 109Nm of torque
2. Harley-Davidson Sportster 883 SuperLow
This model became accessible in the market in 2011 as a replacement of the previous XL 883L model. The new Sportster XL 883L is one of the best Harleys for female riders, given its associated low seat height. In fact, it takes a large share of the market among women.
The L included in the model stands for low, enabling a rider to get the needed balance and comfort. Any passionate lady can maneuver the Sportster easily, even when in the middle of city traffic.
3. Harley-Davidson Street Glide
A sleek style middleweight motorcycle suitable for every female rider. This design is popular among ladies, given its adjustable seat height. It became the favorite of many women rider because of easy suspension modification without neglecting its comfort.
This cruiser is ideal for the highway. If you are looking for a high-style bike with a slammed custom look, the Street Glide is for you. The seat is height is 26.1 inches, which is low enough to offer comfort to women.
4. Harley-Davidson Sportster 1200 Custom
This is another big hit of the Sportster model. The lower deep bucket seat makes it a super comfortable Harley-Davidson for lady riders. Maneuvering this high power motorcycle cannot be difficult for any woman because it is a lightweight design.
The power-weight ratio is an admirable feature that any woman would like their dream motorcycle to possess. If you are highly skillful, every day will continue to be adventurous when you ride your Sportster 1200 custom.
5. Harley-Davidson Softail Low Rider
The weight and low center of gravity of Softail low rider make it one of the tops picks for women. It is a lightweight design with an inverted front suspension and reduced frame rake. You rest assured of fuel efficiency with the Softail Low Rider returning petrol variant of 15 km/pl.
The V-twin engine churns out 144 Nm of peak torque at 3,000 rpm. From the name, you would understand it has a low seat height for the convenience of riders. The Softail Low rider design is clearly reinventing a 1970 style but in a modern way.
Are you ready to get a Harley? Then Consider the Following
Price:
After you conclude that you need a Harley, you need to define your budget. Check if it commensurate with the price of your choice Harley. If it doesn't, review your requirements to enable you to get something within your budget.
There are amazing models of Harley-Davidson for lady riders that don't cost a fortune.


Comfort:
Your comfortability comes above anything else when riding a motorcycle. Don't compromise your convenience for beautiful designs. If you find it difficult to control the motorcycle or you feel discomfort when sitting on it, you may need to choose another bike.

Note: Your height matters when choosing seat height. If you are tall or short, choose a motorcycle that keeps your legs in a natural position. Folding or overstretching your leg may bring discomfort. View Best Harleys for Short Riders


Performance:
Your decision to buy a Harley should hang around its power output. Understanding the engine types is advisable, especially for new riders. A highly powerful motorcycle may be difficult to control for you due to inadequate riding skills.



Conclusion
Are you a first-timer to the motorcycle world as a woman? Don't feel intimidated. There is always a first time for everything. What is important is finding an elegant motorcycle that offers you comfort and satisfaction. If you are reading this, it implies you just discovered the best Harleys for female riders.
What are you waiting for? Use this information to start your riding journey in grand style.
Enjoy this Article? You May Also Like:
---