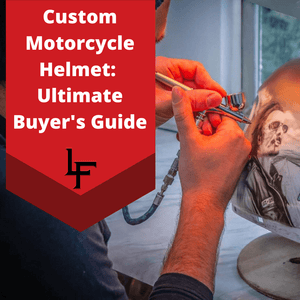 Custom Motorcycle Helmets: Ultimate Buyer's Guide
Are you looking for a custom motorcycle helmet that is personalized, hand painted, & custom designed?
A custom motorcycle helmet is as unique as the rider that wears it. With various techniques for customizing motorcycle helmets, there is a wide range of personalized motorcycle gear available on the market today.
Whether you prefer a smooth, airbrushed look or a stylized hand-painted design, there are several high-quality vendors creating custom motorcycle helmets.
Keep reading to learn about our top picks for where to buy custom painted helmets. 
Content Table
Can you customize a motorcycle helmet?
Yes, you can customize a motorcycle helmet to suit your individual taste and style. From adding decals and graphics to completely repainting the helmet, the possibilities are endless, even custom airbrushing or LED lights. Customizing your motorcycle helmet is a great way to add personality to your ride and stand out on the road. It's important to note that customization should not compromise the safety of the helmet or break any traffic laws.
Custom Motorcycle Helmets on Etsy 
Etsy is a great place for all things custom. Sellers on Etsy have a reputation for providing high-quality, handmade products that are one of a kind.
Searching for custom motorcycle helmets on the site will yield hundreds of results, but you can narrow your search by type of motorcycle helmet, price range, and shipping options. Reviews paint a clear picture of a seller's work, and customer photos showcase previous designs. 
Some of the most popular custom helmets on Etsy feature superhero designs, including Batman, Deathstroke, Deadpool, and Black Panther. If you prefer the dark side, you can find Darth Vader, Venom, and Predator designs. Many sellers feature standard designs with custom options for size and color, so you can create your perfect custom motorcycle helmet. 
Availability 
Items on Etsy tend to be one of a kind or made to order. If a seller posts an item as available, plan to wait a couple of extra weeks for personalization and shipping. You can contact sellers directly through the site to request availability and ask questions about their listings. 
Cost 
Prices for motorcycle helmets on Etsy vary by seller. Custom helmets tend to range from $250 to $400, depending on the design and complexity of the style. 
Helmade Hand Painted Motorcycle Helmets
Helmade is a European brand specializing in handmade helmets. Each custom design is hand-painted based on the customer's design. Their 3D design tool enables you to build your custom helmet, personalizing each color along the way. Styles range from motorcycles and scooters to motorsports and vintage options. 
If you have an existing helmet that you would like customized, you can work with the team at Helmade for a new design. They can overhaul your current helmet, creating the style you want. Helmets sold on Helmade's site feature the latest safety features and newest technology for ultimate protection on the road.
Availability 
Helmade offers a wide range of products and sizes to meet your needs. They require at least four weeks before shipping to customize the helmet based on your specifications. 
Cost
Custom motorcycle helmets from Helmade tend to range between €400 and €1000, or about $450 to $1150 USD. There are some less expensive options, starting at €139 or about $150 USD. 
Deadbeat Customs Motorcycle Helmets
Investing in a custom motorcycle helmet is a big deal, and Deadbeat Customs provides only top of the line brands.
Both full face and open face helmets are available on the site, as well as helmet accessories. There are hundreds of options to choose from, ranging in color, size, and style. Whatever your preference, you can bet Deadbeat Customs offers it. 
Availability 
Deadbeat Customs has more than 300 high quality motorcycle helmets in stock. Brands include Bitwell, Urban Helmets, Simpson Helmets, Bell Helmets, and more. You can also purchase additions to your helmet like shields and inserts. 
Cost
Helmets from Deadbeat Customs range from $100 to $1,400 depending on brand, style, and features. However, you can find a couple of options under $100. 
Revzilla Graphic Motorcycle Helmets
Graphic motorcycle helmets from Revzilla feature a wide range of colors, patterns, and designs to match any style. Revzilla supports a large community of riders, offering helmets, gear, and other accessories to customize your motorcycle and experience. The company is known for their quality customer service and expansive product list. 
You can search for graphic motorcycle helmets by price, brand, customer ratings, and style. With more than 1200 motorcycle helmets, you can find the best option for you. Categories include full face, dual sport, modular, open face, and half helmets. 
Availability 
Revzilla ships motorcycle helmets all over the world and operates a retail location in Philadelphia. The team strives to ships items within 24 hours of ordering but shipping times differ by product and availability. 
Cost
Graphic helmets from Revzilla range from $30 to more than $1,600. There are many options in the $50 to $500 range, providing plenty of choices all price points. 
AirGraffix Air Brushed Motorcycle Helmets
AirGraffix promises to transform ideas into realities with custom painted helmets. The team at AirGraffix offers a wide range of designs available on several different helmet brands and models. You can select custom options, including size, lens tint, coating, and more. 
Popular designs include heroes like Spiderman and Ironman, Star Wars themed helmets, comic book characters, and other movie themes. If you're looking for unique motorcycle helmets, you can send in your helmets to the team for a custom job. AirGraffix uses a diamond-hard urethane clearcoat that is automotive grade. 
Availability 
There are dozens of hand painted motorcycle helmets to choose from on AirGraffix. The company offers turnaround times of two to three weeks due to customization. 
Cost
Custom helmets from AirGraffix tend to range between $500 and $800. Price depends on the design, helmet brand, and any additional features added to the order. 
The Badass Helmet Store Motorcycle Helmets
The Badass Helmet Store, or BAHS, compiled lists of the best helmets on the market.
From various themed motorcycle helmets to different style options, you can find the best places to shop for your unique helmet needs. You can search for helmets by brand and read countless reviews on each item. 
Availability 
BAHS does not sell custom motorcycle helmets directly, but they provide hundreds of links to quality sellers and vendors. 
Blaze ArtWorks Custom Painted Motorcycle Helmets
Blaze ArtWorks takes cool motorcycle helmets to a whole new level. Their custom painted motorcycle helmets are elevated to art with unique airbrushed designs.
Popular styles include helmets from their Venom series, smiley face helmets, and Skull series. Custom painted helmets feature detailed artwork that is stunning on any rider. 
View all angles of your custom helmet with their 360-degree videos to find the option that best matches your style. The team at Blaze ArtWorks believes in professional painting and airbrushing to take a dull helmet to something eye-catching. 
Availability 
Blaze ArtWorks offers dozens of styles in their design series. Airbrushed helmets take three to four weeks of delivery for customization and shipping. 
Cost
Custom helmets from Blaze ArtWorks range from £350 to £450, or about $430 to $570 USD. 
Rekairbrush Personalized Motorcycle Helmets
Rekairbrush sells custom airbrushed motorcycle helmets with high-end paint for automotive use. Popular designs from the shop include custom airbrushed bandana helmets, airbrushed football team styles, and painted horror movie helmets. Styles are available for men and women, and you can request a completely custom design or theme. 
The artist at Rekairbrush is always up for a challenge. If you have a unique style or design that you want airbrushed on a motorcycle helmet, send your design to start a conversation. Customers frequently feature their custom helmets at car and bike shows, special events, and comic cons. 
Availability 
Rekairbrush offers several design and theme options for helmets, but you can always reach out for a custom design. Turnaround time is timely and based on design specifications. 
Cost
Designs from Rekairbrush start around $525 and depend on customization options, helmet model, and style. 
Conclusion
In conclusion, custom motorcycle helmets are a great way to add personality and style to your ride. Whether you're looking for a vintage look, a racing inspired design or a completely unique creation, there are many options available to suit your individual taste. Not only do custom helmets allow you to stand out on the road, but they also offer the added benefit of being able to reflect your personal interests and passions. Furthermore, it is important to note that safety should always be the top priority when it comes to motorcycle gear, and custom helmets are no exception. Make sure to always purchase from a reputable dealer and ensure the helmet meets safety standards.
Frequently Asked Questions
How much does it cost to wrap a motorcycle helmet?
The cost of wrapping a motorcycle helmet can vary depending on the size and complexity of the design, as well as the materials used. On average, you can expect to pay between $50 to $200 for a professional helmet wrap. It is also possible to purchase DIY helmet wrap kits for a more budget-friendly option. It's important to note that professional wraps tend to last longer and look better than DIY wraps.

What kind of helmet does Jax Teller have?
In the popular TV series "Sons of Anarchy", Jax Teller, the main character, is often seen wearing a Bell Bullitt helmet. The Bell Bullitt is a retro-style full-face helmet that has become popular in the motorcycle community.

Is it legal to mount a GoPro on a motorcycle helmet?
It is legal to mount a GoPro on a motorcycle helmet in most states, but it is important to check with your local laws and regulations. Some states may have restrictions on the use of cameras while operating a motorcycle. It's also important to ensure that the mount is securely attached and does not obstruct your field of view.

Is a 20 year old motorcycle helmet still good?
A motorcycle helmet should be replaced every 5 to 7 years, regardless of use or condition. With time, the materials in the helmet can degrade, which can reduce its ability to protect you in the event of an accident. Furthermore, advances in technology and safety standards mean that newer helmets may provide more protection than older models. It's always recommended to use a helmet that is current with the latest safety standards.
---