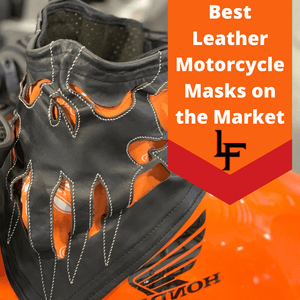 20 Best Leather Motorcycle Face Mask | 2021 Edition
Searching for the best leather motorcycle face mask to take on your next adventure? 
A motorcycle face mask is one of the most important pieces of riding gear. The proper face mask can make all the difference between dream ride & nightmare lane. 
However, finding the best leather motorcycle face mask is no easy task. There are so many options out there, but most are not up to par. 
Finding the perfect motorcycle face mask depends on your unique style & needs.
That's why, just below, we've handpicked a list of our favorite face masks in the industry.
Keep reading for the Top 20 best leather motorcycle face masks for 2021. 
Content Table:
Key Components to the Perfect Motorcycle Mask
You'll find a wide variety of motorcycle masks available online and in motorcycle shops today.
Although sifting through all the options can quickly become overwhelming. Not to mention you're constantly wondering if you're getting the best bang for your buck.
Thankfully, just below are key criteria to use in refining your search. 
It's important to keep your personal preferences in mind, consider your riding conditions and climate to determine the type of materials for your motorcycle mask. Plus, take into account factors like breathability, fitment, & convenience to provide the ultimate riding experience
Breathability
Ever deal with a stuffy mask on a hot summer ride? Feels like your sitting under the tarmac in Texas during the middle of July. DAMN HOT!!
That's why high-quality face masks offer advanced breathability. Utilizing perforations to create a cool & refreshing air flow over your face.
Look for designs that allow air flow even if the mask is fully saturated from rain, sweat, etc. 
Spare Inner Liners
Removable Inner Liners are like spare tires, always perfect in a pinch!
Spare Inner liners are available in a variety of materials, offering an added level of protection & comfort to your leather face mask.
Interchangeable Inner Liners are easy to remove so you can give them a wash, change out old ones, or add a new design. 
Best of all, inner liners offer advanced breathability utilizing perforated backings to create a dispersion of cool air all around your face. 
Convenient Features
For added convenience, look for features like hidden stash pockets. You can use the stash pocket to store items like your cash or credit cards. With these features, you can travel light knowing your valuables are safe. 
Top 20 Leather Face Motorcycle Masks
Whether you are looking for a motorcycle face mask for men or women, there are many options available.
You can find handmade motorcycle face shields through Etsy shops and other online retailers, or you can purchase a custom motorcycle face mask for a unique look. 
Best Choice - Top Rated Face Mask
Breathability, Convenience & Protection the Leather Face Mask cannot be beaten by any of its predecessors. This Patented Design is a one-of-a-kind creation, no motorcycle mask on the market has the same functionality or design.
Just check out some of the incredible features in each Leather Face Motorcycle Mask:
[NEW] MULTILAYER TECHNOLOGY - SUPERIOR PROTECTION: Our Motorcycle half face mask provides the ULTIMATE RESISTANCE to WIND, RAIN, SUN, UV, DUST, DEBRIS & COLD WEATHER. Using GENUINE COWHIDE LEATHER our OUTER LINERS STOP the sting of IMPACTS from accelerating projectiles. While soft supple SUEDE INNER LINERS create a comfortable atmosphere. 
ADVANCED BREATHABILITY –LIKE FEELING THE WIND ON YOUR FACE: Unlike most half-face masks that leave you gasping for breath when wet. Our inner liners use LASER CUT PERFORATIONS to REDUCE MOISTURE BUILD-UP  & allow for MAXIMUM VENTILATION EVEN if it's FULLY SOAKED. AIR EASILY PENETRATES, PREVENTING you from OVERHEATING even on scorching hot days.
COMFORTABLY SNUG FIT – Unlike a bandana, balaclava or neoprene facemask that fits loosely & falls down in the wind. Our face gear has ADJUSTABLE METAL RIDGE NOSE PIECES & VELCRO FASTENERS, allowing for a PERSONALIZED & UNIQUE FIT, that's EASY to PUT ON or TAKE OFF. UNISEX MASK for ADULTS&TEENAGERS WIDTH*LENGTH 27*10(in.) Min-Max Circumference 21-27(in.)
HIDDEN STASH POCKET – MULTIFUNCTION: Wish there was a FASTER, MORE CONVENIENT & COMFORTABLE way to hold your everyday essentials while riding? Located on the RIGHT SIDE of our face mask, HIDDEN BETWEEN LINERS, is a STASH POCKET that HOLDS CREDIT CARD, ID, or CASH. You can leave the wallet at home because this mask is all you'll need on the road. 
TRY IT RISK-FREE 30 DAYS -100% MONEY BACK GUARANTEE: We are LOYAL to our customers that's why we offer the BEST CUSTOMER SERVICE. We strive to guarantee our customer's satisfaction. If you've any doubts about our product performance, please contact us. We offer EASY RETURNS & EXCHANGE PROCESS. There's absolutely no risk in buying. Hit Add to Cart Now!
You can find this handmade leather mask on Etsy. Styled after Deathstroke movies, video games, and comics, the half face mask is available with different levels of tooling and finishes. You can also choose your bandana liner color and the color of your mask. 
This Etsy find features a classic style with plenty of breathability. The lining protects your face and the two included straps allow you to adjust the mask to fit your face. 
This riding mask features a Dia de Los Muertos theme and is handmade for a completely custom look. Added holes keep humidity at bay and offer plenty of breathability. 
Choose your color and strap style to customize this Oni style mask. The dyed and painted leather motorcycle mask is hand carved and made to order. It also makes a great décor item when not in use. 
This scale-inspired leather motorcycle mask features curved fangs and classic dragon imagery. You can choose the color of your mask and enjoy breathing holes for additional airflow. 
If you prefer an old-school look, this mask is handcrafted in France and features a classic style and texture. The gray and white style offers a combination that will work with any look. 
For the top level in comfort, this mask features a soft suede leather backing. Every mask is molded by hand and features a variety of colors and patterns for a unique product. 
The leather face mask from Leather Face features a hidden stash pocket to hold your ID, cards, and cash. You can also enjoy breathability with laser cut perforations. 
Made from full grain leather, this hand-tooled mask features waxed thread and an antique finish. You can choose the size that fits your helmet and adjust the fit with elastic straps.
If you prefer a simiplistic style, this full-grain leather mask is your perfect fit. The dark brown leather is dyed dark brown, and you can customize the color of thread. 
This simple design is a great leather motorcycle mask for women or men. Choose between multiple color options and engrave a personal note or date in the mask. 
Made from vegan cowhide leather, this mask protects your face from the elements while remaining stylish. Ventilation holes enable better airflow so you can breathe easy while you ride. 
Enjoy peak airflow with a built-in ventilation system in this leather motorcycle mask. You can adapt the size and positioning to secure the mask as you ride. 
If Steampunk is your style, this mask will match your unique style perfectly. Made of faux leather, this mask features metal spikes and eyelets as well as an adjustable elastic strap. 
Inspired by the Aliens movies, this unique mask features a one-of-a-kind design. The leather lining and padding offer extra comfort in the nose and cheek areas. 
This simple design features grommets to allow optimal air flow for breathability. The brown leather material offers a worn and antique look and has a natural lining. 
For bikers who love a Steampunk, post-apocalyptic design, this leather motorcycle mask will blend with your style. The mask is surprisingly light and made by hand. 
Keep it simple with a leather neck tube made of goat leather and microfiber polyester. This half face mask has moisture wicking abilities to protect you from the cold and wind. 
For an old-school, classic vibe, this leather mask features a vintage design. The leather face mask stays in place at high speeds and is lined with a think protective skin for comfort. 
This leather motorcycle mask is made of nubuck leather with ventilation holes to keep you comfortable while you ride. The soft suede interior fabric prevents sweating and remains comfortable under your helmet.
Enjoy this Article? You May Also Like: 
---