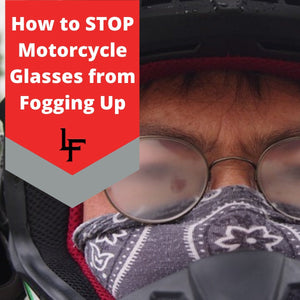 How To Stop Your Motorcycle Glasses From Fogging Up
Motorcycle glasses fog up can be a huge discomfort when you are riding your motorbike. Few things in life feel better than the feeling of the wind going through your hair. Meanwhile, it is not every time that you enjoy this great feeling that comes with riding your bike.
One of such scenarios can be due to your helmet fogging up. Fogged motorcycle glasses are undoubtedly annoying, and you wouldn't want to experience that. 
This post will explore all the tips on how to stop your motorcycle glasses from fogging up when wearing a face mask.
Fogged up Helmets can be very dangerous. If you cannot see where you are going, it can lead to a severe accident and even death. Therefore, you must learn how to avoid motorcycle glasses fog up. There are ways you can reduce fog up on motorcycle glasses. 
Tips to Prevent Motorcycle Glasses Fog Up
Here are essential on how you can stop motorcycle glasses fog up:
1. Ensure Your Mask Fits Properly
If your mask is loose, it is bound to let hot air out the top of it, thus fogging your glasses. This could obscure your vision and lead to an accident. A well-fitting face mask should sit directly on the tops of your nose and cheeks. No part of the mask ought to be gaping. 
One thing the Leather Face Mask has that no other motorcycle mask incorporates is metal ridge nose pieces that form to your face. This creates a perfect mold to your face that reduces 99% of Motorcycle fog up.
If the mask is too large, you can get a smaller one, or you can:
Loop the elastic around your ear more than once if it is long enough.

Alternatively, you can tie the excess elastic with a hair band or rubber band to create a smaller loop. 

Add a small paper clip to the elastic right in front of the ear if the face mask is less baggy. This will help pull in the elastic for a tighter fit on your face. 
Doing these can help tighten the face mask over your nose and cheeks, hence blocking air more effectively. 
2. Place Glasses on Top of Your Mask to Create a Perfect Seal
This is another effective way to prevent motorcycle glasses fog up. You can pull up your face mask so you can comfortably place your glasses on top of your mask.
The lenses of your glasses will push the face mask's fabric around your nose and cheeks down. This seals the mask to your face. 
3. Use a Mask Extender
Wearing a mask extender can help you reduce fog up on motorcycle glasses. A mask extender that links the ear loops around the back of your head will help create a tighter fit. If you are a knitter, you can create one yourself; otherwise, you can buy one online. You can also improvise using a couple of paperclips. 
A mask extender will help narrow the space between your skin and the top of your mask. By so doing, it allows you to keep your motorcycle glasses from fogging up. It will be more useful to use the extender with a face mask with an adjustable noseband. 
4. Use Soap & Water
This old trick was popularized by a British surgeon in 2011. The surgeon claimed that washing glasses with soap and water would leave a film on the mask. According to the surgeon, the film helps the glasses to resist fogging. This has been working and is worth trying before you try out other options.
Before you embark on your motorbike ride, make out time to wash your glasses. It will go a long way to help you prevent motorcycle glasses fog up. 

5. Use Anti-Fog Coating
A good motorcycle glasses anti-fog will help you prevent motorcycle glasses fog up. This is a longer-term solution than the soap and water mentioned above. The motorcycle glasses anti-coating applies a chemically bonded coating to both sides of your lens before it is cut. It prevents water molecules from combining and sticking together. 
Conclusion
Riding a motorcycle is fun, but motorcycle glasses fog up can make it otherwise. Aside from the annoyance of fogged motorcycle glasses, it can also be fatal at worst. You may not have faced any of those scenarios, but now is the time to take preventive measures. Follow these preventive tips on how to stop your motorcycle glasses from fogging up when wearing a face mask.  
Enjoy this Article? You May Also Like:
---