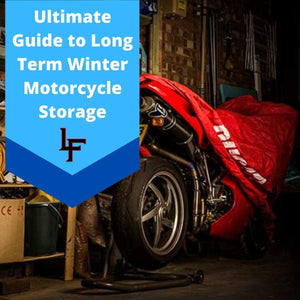 Ultimate Guide to Long Term Winter Motorcycle Storage
The effect of the winter season on humans is not new. So it becomes essential to prepare beforehand to get through this period. Your motorcycle requires the same rituals to keep it in good riding condition when the spring season arrives. This is to say that every bike owner needs motorcycle winter storage to keep up with the cold season.
You might be wondering – Is it necessary to know winter motorcycle storage tips? Would covering your bike be just enough?
Well, the answer is not farfetched. To get over the extremely harsh winter weather, you will need to go the extra mile to avoid the negative implications that winter could have on your two-wheeled ride. Winterizing your motorcycle is the the right thing to do, if you're not riding it for a long period of time.
Do you have an idea of how to winterize your motorcycle? Maybe not!
We want to help you avoid common mistakes people make when winterizing motorcycle. This guide will be highlighting the reasons why you need to store your motorcycle for winter. 
DO YOU NEED TO STORE YOUR MOTORCYCLE FOR WINTER
It is very important to keep your motorcycle intact for subsequent riding after winter without beating around the bush. You don't want to start spending excessively after winter waves goodbye.
A few of the expenses you might be incurring if you fail to store your motorcycle for winter include getting a new battery due to damage to the existing one. We are pretty sure you don't want to think about that.
Winterizing your motorcycle saves you additional cost and trouble, given that most bikes are kept outside the living area. It would bring a smile to your face to find your motorcycle ready to go on an adventure when the time comes.
Riding Your Motorcycle in the Winter? 
Check our Guide to Winter Motorcycle Riding or Best Winter Motorcycle Gear Guide!
REASONS WHY YOU NEED TO STORE YOUR MOTORCYCLE FOR WINTER
So bikers might be ignorant of the fierce nature of winter weather and how devastating it can be for their motorcycles. In case you don't know, below are a few of the reasons why winter motorcycle storage is essential for your bike's durability.
1. KEEPING YOUR BATTERY CHARGED
Without actively using your motorcycle, the battery may die off, making it difficult to use when winter is over. Winterizing your motorcycle in a garage with an electrical outlet becomes important to ensure the battery remains in good condition for a ride at the beginning of the warm weather.
You should have in mind that motorcycles battery are very expensive, which you might be prepared for if you find yourself in such a situation.
2. REDUCE DEPRECIATION EFFECT
No doubt that the value of a motorcycle depreciates from the first day of usage. However, leaving it in hibernation mode will only make it worse. This is because you are giving room for dirt, rust, etc. to accumulate, which you might find challenging to separate from your bike. 
Your ability to keep winter pressure on your bike under check, the longer it takes before depreciating. Try to do all you can in your capacity to prevent the freezing weather from effecting your bike. If you adhere to the winter motorcycle storage tips, rest assured your bike will be in safe hands.
3. MAINTAIN CLEANLINESS
The appearance of your bike speaks a lot about you. For this reason, you shouldn't permit snow, ice, and debris to make your motorcycle filthy while it remains outside during winter. Since winter would be around for a while, you need long term winter storage for your motorcycle. 
It starts with washing every part of the bike that looks grimy. Leaving it without adequate wash may bring a permanent stain to it. Pretty sure you don't want that to happen. Clean looking bikes chase thieves away, while dirty ones invite them to take advantage of you.
THE DON'Ts OF WINTERIZING YOUR MOTORCYCLE
People use their instincts and abstract ideas when it comes to cold weather motorcycle storage. Some ideas work perfectly, while some don't give the expected result. We would like to let you know that even some ideas that had positive results might still be harmful to your motorcycle.
Follow the below don'ts that we highlighted for effective motorcycle winter storage.
1. DON'T TAKE OFF THE BATTERY
It is never a good idea to remove the battery of your motorcycle. So how do you store your motorcycle for winter without getting the battery damaged? Store your motorcycle in a garage or a parking lot that has a power source. Perhaps, there isn't a spot for a charger; a battery maintainer would be ideal for keeping your motorcycle's battery healthy.
A fully charged lead-acid battery with electrolytes tends to withstand the cold weather until it drops below 90 degrees Fahrenheit, which is rare to happen. However, you should be aware that the best charger to keep your battery healthy is the float charger that takes note of the feedback voltage.
2. DON'T EMPTY YOUR FUEL TANK
One common mistake among motorcycle users is leaving the tank drained at the start of winter. This isn't good if you want your bike to last longer.  A drained fuel tank is susceptible to rust and wears off, which usually results in leakages. However, you should be conversant with your petcock's durability to ensure it doesn't allow fuel to pass through it.
3. DON'T WINTERIZE A DIRTY BIKE
Debris and grime can harm your motorcycle's engine. Metal and rubber are vulnerable to long term dirt, especially when it solidifies in the hidden part of your motorcycle. You should preserve your motorcycle quality by washing it thoroughly before parking it indoor for winter break.
4. DON'T USE LOW-QUALITY COVER
Since winter is characterized by cold, snow, and ice, you should be getting your motorcycle stored in a warm garage. The accepted standard for winter motorcycle storage is using an indoor dust cover. Weatherproof motorcycle cover offers the motorcycle what it requires to get through the winter without losing its value.
The low-quality cover might withhold water, which might eventually cause rust to your motorcycle. Also, a cheap cover can scratch the paint, thereby disfiguring the motorcycle appearance.
HOW TO WINTERIZE YOUR MOTORCYCLE
1. CHANGE THE ENGINE OIL
Changing your engine oil is necessary before winterizing your motorcycle. You should keep in mind the interval between oil changes. This will aid in understanding which of the motorcycle oil requires changing.
New oil ensures your motorcycle remains fresh, as old oil with contaminants that could be harmful to your engine will be drained away. 
2. USE CENTER STAND
The Center stand is ideal during motorcycle winter storage, as it prevents the wheels from touching down on the ground. This method eradicates the need to rotate to reduce flat spots. 
If your motorcycle is on the center stand, there is a higher chance that its suspension will last longer.
3. STORE INDOORS IN A WELL-VENTILATED AREA
Winter motorcycle storage includes keeping your motorcycle indoor in an environment with moderate ventilation. There will be constant air circulation that leaves no moisture to accumulate inside the cover.
Endeavor to remove every chemical within the indoor environment where you store your motorcycle to avoid corrosion. 
CONCLUSION
Adhering to these winter motorcycle storage tips strictly will make your first ride after winter superb. Taking care of your motorcycle in time saves you unplanned expenses when the warm weather arrives. The lifespan of your motorcycle lies in your hand. These hints are excellent care you could give to your treasured motorcycle.
Enjoy this Article? You May Also Like:
---