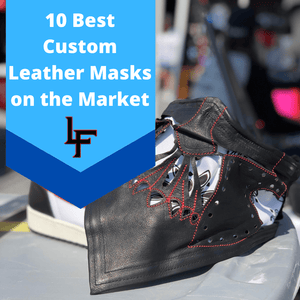 10 Best Custom Leather Masks on the Market
Every country wants her citizen to stay protected amidst the pandemic that affects the world. At the same time, pollution needs to be under check to avoid the spread of the virus. Hence, the demand for a disposable face mask is becoming higher than what is available. 
This challenge brought about the introduction of custom leather masks for protection. As much as they offer protection, they are also comfortable for use in public places. Personalized leather masks are available in different colors with two strap loops for hanging around the neck. This helps to keep the masks firm to the face to avoid falling off.
You can get a handmade leather mask customized to match with your choice. You can decide to have a series of air vents at the front to give room for in and out airflow. Filtering is possible because the top of the mask allows you to swap it out for fresh air while using it. These features are what you get on a custom-designed leather mask.
Read on to discover some top custom leather masks suitable for motorcycling and other outdoor activities.
LEATHER FACE MASKS FOR ALL PURPOSE
In terms of protection, breathing, and comfortability, custom leather masks are ahead of previous designs that were in circulation. The functionality and designs of leather masks stand out uniquely, given the utilization of a patented design. 
Still in doubt? See the handmade leather masks with their astonishing features that make them suitable for any activities below:
#1 Best Custom Leather Mask: Leather Face Mask
This mask is by far the best option for design, functionality, & aesthetics. Not only is this mask a patented multi-layer design. Meaning you can change the outer leather & inside liner color whenever you want, giving you full creative control. 
Plus, Leather Face offers embroidery services so you can get your favorite logo, name, date, etc. stitched right onto your mask. Taking your creative control one step further. 
Last, but certainly not least with this mask there are a variety of features. The Leather Face mask incorporates a hidden stash pocket for credit card or cash. In addition, the inner liners are made with a perforated suede that allows for advanced breathability. No more overheating behind your leather masks, Leather Face has solved the problem!
Make sure to check out all the styles and options. 
10 Awesome Custom Leather Face Masks
1. Red Leather Oni Kabuki Half Mask
This amazing leather mask is available in different colors. You can select the strap style of your choice. It is a handmade leather mask that could stand in as décor when it is out of use.
FEATURES 
Adjustable snug fit

Zip-like design suitable for décor

Laser-engraved leather mask

allows for easy breathing

Maximum protection with the aid of multilayer technology
2. Handmade Designer Fashion Leather Face Mask
This highly protective custom leather mask is suitable for adults. It helps to filter dust, allowing inflow of fresh air only. It covers the mouth and nose extensively preventing contact with contaminants.
FEATURES
Extensive face coverage

Breathing-enabled

Durable leather materials
3. Leather Lanyard Mask Saver
This safety-inspired leather mask can be placed around the neck to prevent it from falling off. A suitable choice for people who run and workout, given the ability to pull it down the neck without difficulty.
FEATURES
Adjustable strap for easy wear around the neck

Authentic leather material

Stylish and easily fasten

Suitable for earphone holder.
4. Large Leather Face Covering
This compact leather mask has a pocket attached to one side of the design. It is available in multiple colors, including nude and black leathers. The leather is of high-quality material stitched together by hands.
The elastic head straps are connected to the custom-designed leather with a metal press studs. These designs are not suitable for children less than three years.
FEATURES
Metal Press Studs

Elastic strap

Fine quality handmade leather

Pocket attachment
5. Leather Face Mask with Filter Pockets
This handmade leather mask is made from waxed thread and genuine leather. The designer takes into consideration health standards for safety and comfortability. It comes with a cotton cloth filter that enables you to breathe without stress.
The mask is well suited for adults, and you can decide on the elastic band for either ear or head. It is an hand-made custom-designed leather mask.
FEATURES
Maximum protection guaranteed

Health standard

Durable leather of top quality

Elastic strap available for ear and heads
6. Rabbit/Leather Bunny Mask
We recommend these masks for themed parties and BDSM games. It offers comfort at the highest level. The Rabbit/Leather Bunny masks are sturdy and comfortable and made from a premium quality leader.
This is not a common design like the regular we have known for a long time.
FEATURES
Made of premium quality leather.

100% handmade.

Unique design and quality craftsmanship.

Organic look and feel.

Stainless hardware.
7. Custom Leather Frost Dragon Masquerade Mask
This is one of a kind custom leather mask made by hands. The stiff vegetable-tanned leather is painted by hands, which makes it available in various color. A protective coating is attached to each leather that makes it to shine. Its flexibility makes it a good addition to costume.
FEATURES
Flexible Leather Material

100% Handmade

Unique Dragon Design
8. Shiny Black PVC 2-Layer Fitted Vinyl Face Mask
These face masks designs are a complement to any outfit. They are like an essential addition to fashion style. It is a handmade leather mask, with 2-layer PVC fitted with a layer of soft, breathable cotton. Also, it has a filter pocket for the keeping of cash and ID.
FEATURES
2-Layer PVC face mask

Filter pocket

Breathable jersey cotton

Thin and Comfy ear straps
9. Facehugger Leather Mask
This face mask design is a typical example of the alien movie theme "Facehugger". A handmade face mask from a quality and genuine leather. It possesses a closure behind the head with buttons for easy adjustment of the width. It can be combined with a disposable mask.
FEATURES
100% Handmade 

Buttons for adjustment

Quality & Genuine Leather

High-quality sling
10. Customized Leather Plague Doctor Mask
This design is a product of leather leftovers with decoration done by pyrography. Production depends on the wants of customers. You can get a custom leather designed mask based on your preferences. The plague doctor mask makes use of dieselpunk patterns.
FEATURES
100% handmade face mask

Custom themes based on customer's preference

Perfect fit for comfort
CONCLUSION
Unlike the conventional masks, leather masks are customizable to suit your needs. A good example of its comfortability is the numerous vents that aids easy breathing. Some custom leather masks come with removable inner liners, which prevents irritation using the mask. Chances are high that you will be getting the value for your money when you buy a customizable leather mask.
Enjoy this Article? You May Also Like:
---